Arts & Crafts
COME TO BROWSE, SHOP AND ENJOY ORIGINAL ARTISTRY!
The Manhattan Beach Hometown Fair features more than 200 fine arts and crafts booths. Each of the participating artists are selected by a jury. Artists showcase a wide variety of wares including glass, metal, wood, ceramics, oil painting, watercolors, jewelry, clothing, and much more. The Fair's objective is to offer an interesting mix of unique, quality hand crafted items.
If you are an artist and are interested in participating in the Manhattan Beach Hometown Fair, we would welcome the opportunity to jury your application.
Here's what some of our vendors from 2022 had to say:
"Our booth placement was impeccable and everything seemed to be a hit! I know we were perhaps an unexpected addition but I am so thankful for all you did to accommodate us. The load in and out process was seamless and everyone was so kind. THANK YOU! See you next year ;)"
- Britt Rohr
"I was a vendor this past weekend. Just wanted to give you a shoutout on the fantastic job you guys did organizing and running this fair. Thank you!"
-Bruce Samia
"Wonderful event. As an artist vendor I was pleased with everything and I'll be back next year."
-Marc Raphael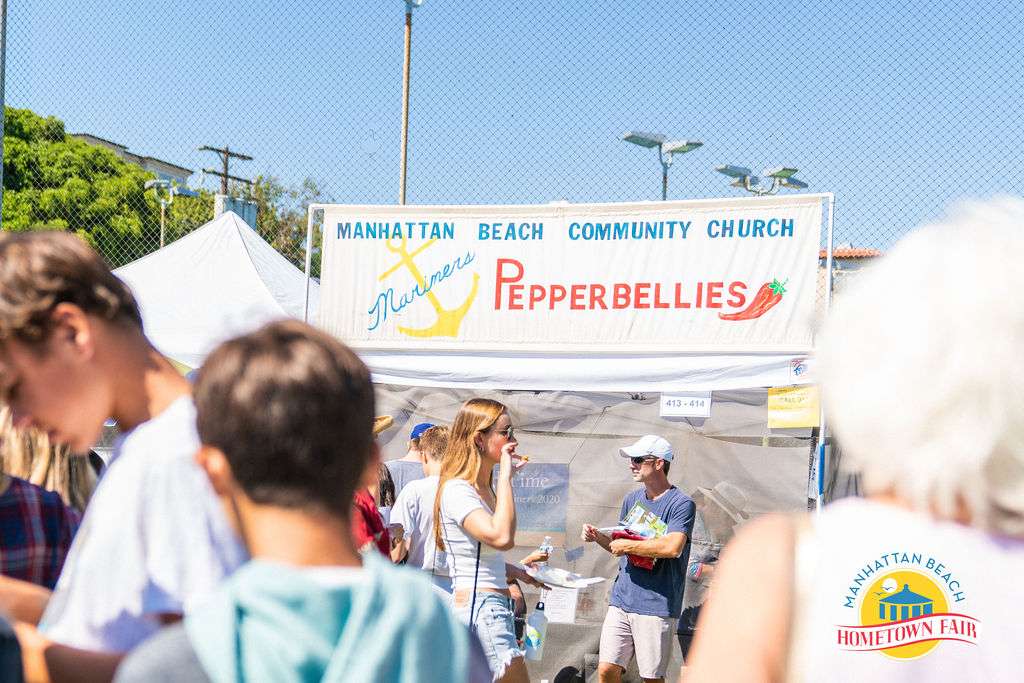 Food Booths
Food, Food, Food! A smorgasbord of food is available on both Dorsey and Live Oak fields. Available for your dining pleasure are a variety of hot entrees – pepper bellies, hamburgers, pizza, pulled pork, tri-tip, funnel cake and more. Quench your thirst with a variety of refreshing drinks – water, lemonade, regular and diet sodas, frozen lemonade, Hawaiian shave ice, boba...and the list continues.
The Food Booths at the Manhattan Beach Hometown Fair are a mix of old and new. Most organizations have hosted a Food Booth for many years, and each year there are new groups who recognize this unique fundraising opportunity and apply to participate.
On average, there are about 30 local charitable organizations that apply to host a Food Booth. For many, this is a primary source of funding for their group's cause.
The Food Booths are staffed by non-profit organizations only. Commercial food organizations are not permitted.
The following five organizations have been selected to run our 2023 Soda/Water booths! Congrats to the randomly selected winners:
Girl Scout Troop 70825
Sandpipers Junior
MCHS Baseball
Vistamar Robotics
MCHS Football (Kid Country)
Paid Games
All South Bay service clubs are heartily invited to join in with their own brand of unique and fun games. Let's try to find some new and different ideas that will make this fair a great one! Get your application in early.
Booths will be 10' by 10' (100 sq ft). Any booth occupying more than 100 sq ft will require two booth spaces.

Booths operating activities where things are thrown or where any activity might bother a neighboring booth or the public at large must supply a back and/or sides and a roof for their booth, or they will not be allowed to operate.

Clean up - each organization is responsible for the clean up in and around the assigned booth space during and after the Fair.

The Fair hours will be 10:00am-6:00pm on Saturday and 10:00am-5:30pm on Sunday. Please plan to be open during these hours.

Failure to comply with all the Booth Rules

(click on the link below)

can result in closure.
You must review and agree to the Indemnification Clause

(click on link below)

in order to register for a booth

Proof of Liability Insurance Coverage
Depending on the type of game/activity you are hosting, a Certificate of Insurance may be required from each organization. It should name the Manhattan Beach Hometown Fair Association and the City of Manhattan Beach as additional insureds. We will inform you if you need one and can provide you information for where to buy the coverage for a nominal cost. If your organization is affiliated with the Manhattan Beach Unified School District, it is likely that an existing umbrella policy would provide coverage and we will contact them to get the policy for you. Other parent organizations may also have an umbrella policy, so please check before purchasing your own.
Games Offered This Year Include::
Glitter Tattoos
Colored Hair Spray
Robot Jousting
Lacrosse Games
Bell & Hammer
Golf Games
Ball Toss
Archery
Raingutter Regatta
Yo-Yo Water Balloons
DNA PolymeRACE
Spin the Wheel
And More!
For more information on paid games, please contact Nellie Ambrose at paidgames@mbfair.org.
Civic Corner
The Civic Corner proudly features City services to promote community engagement and give residents and visitors alike the chance to interact with city employees.
This area is located at the Fair entrance across from the Joslyn Community Center.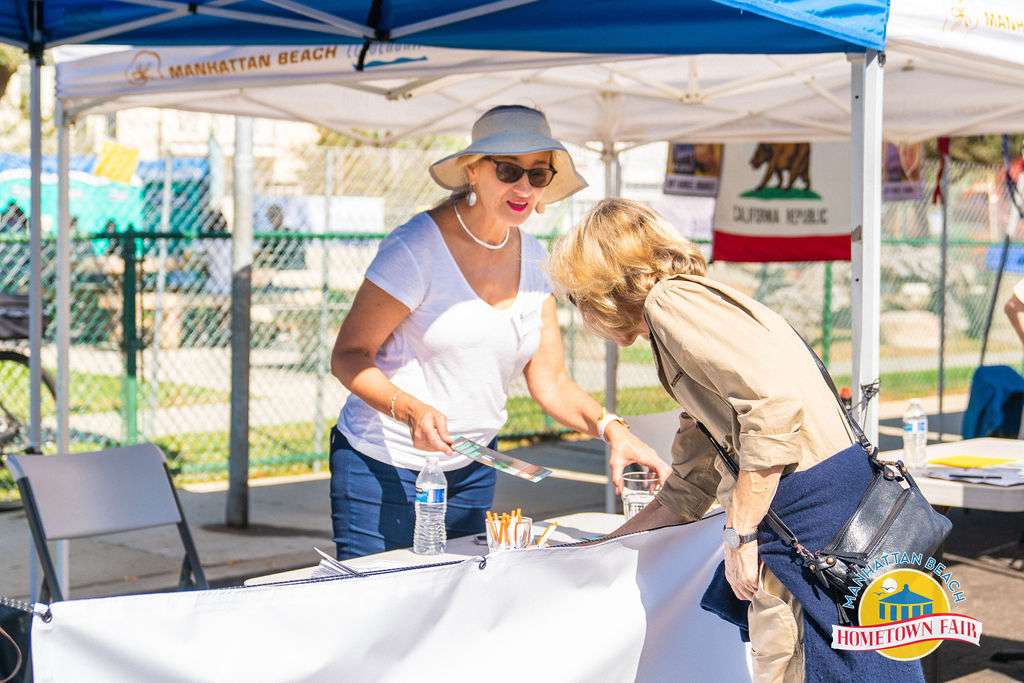 Community Place
Our designated Community Place area is at the north end of the fairgrounds. For safety reasons, this is the only space where registered non-profit organizations and political groups from the South Bay area may set up booths and disseminate information about their cause.
Eligible groups include those where the interest or cause involves public safety, public awareness, community awareness or local issues. Nothing may be sold at the Community Place booths, nor may physical services be provided, but groups may hand out information and pamphlets in the designated Community Place area.
Selection is done via an Application and Lottery process.