Attending the Fair
The Fair is located on Valley Drive between 15th and 21st Street.  We have a variety of entertainment and fun for everyone.  Please click on
Activities and Attractions
to learn more about the various areas of the Fair. We look forward to you joining us at the Fair.
Location
The Fair is located on Valley Drive between 15th and 21st Streets in Manhattan Beach, CA.  The street is closed down during fair weekend.  The fair is held on Valley Drive and Veterans Park in this area as well as the Joslyn Center and both Live Oak Park and Dorsey Field.
Click below on the Google map
Google map
Click below for a map of the Fair.
Hometown Fair Map (.pdf)
Hometown Fair Map (.jpg)
Fair Hours
SATURDAY, OCTOBER 3rd AND SUNDAY, OCTOBER 4th
General Fair Hours: Saturday and Sunday from 10am to 6pm
Beer Garden: 10 am to 6 pm (last call at 5:30pm and ticket sales end at 5pm)
Wine Garden: Noon to 6 pm (last call at 5:30pm and ticket sales end at 5pm)
Arts & Crafts: 10 am to 5 pm
Food Booths: 10 am to 6:00 pm
Games Booths: 10 am to 6:00 pm
Kid Country: 10 am to 5 pm on Saturday and 10 am to 4:00pm on Sunday
Please for everyone's safety, No dogs, No bikes, No skateboards, No scooters, No roller skates or blades are allowed anytime on the fairgrounds
Parking and Shuttle Service
Parking at the beach is always at a premium, so we provide our visitors with FREE PARKING and FREE SHUTTLE BUSES. This is the quickest and easiest way to drive to our Fair.
Off-Site parking will be at Northrop Grumman Lot, Building R2, which is on Aviation at Space Park Drive, one block south of Marine. (see map).
Shuttle hours:
6:30 a.m. to 6:00 p.m. Saturday*
8:00 a.m. to 7:00 p.m. Sunday
The shuttle will run approximately every 15 minutes throughout each day.
*On Saturday, one shuttle will run at 6:30am for vendors. The shuttle will then start operating again at about 8:00a.m. after the conclusion of the 10K Race.
10K Run:
Unfortunately, we do not offer an early shuttle for the 10K Runners. The Manhattan Beach Hometown Fair is a separate organization and is not affiliated with the 10K Run Committee. For more information about the race, please see the Manhattan Beach 10K website.
Disabled Parking
Disabled parking is available at the north end of Valley Drive and in the Civic Center Lot at 15th and Highland. Persons needing disabled parking may access these areas from the corner of Highland and 15th and Blanche and Valley Drive. Those entrance points will have blockades and officers will let you pass if there is available parking.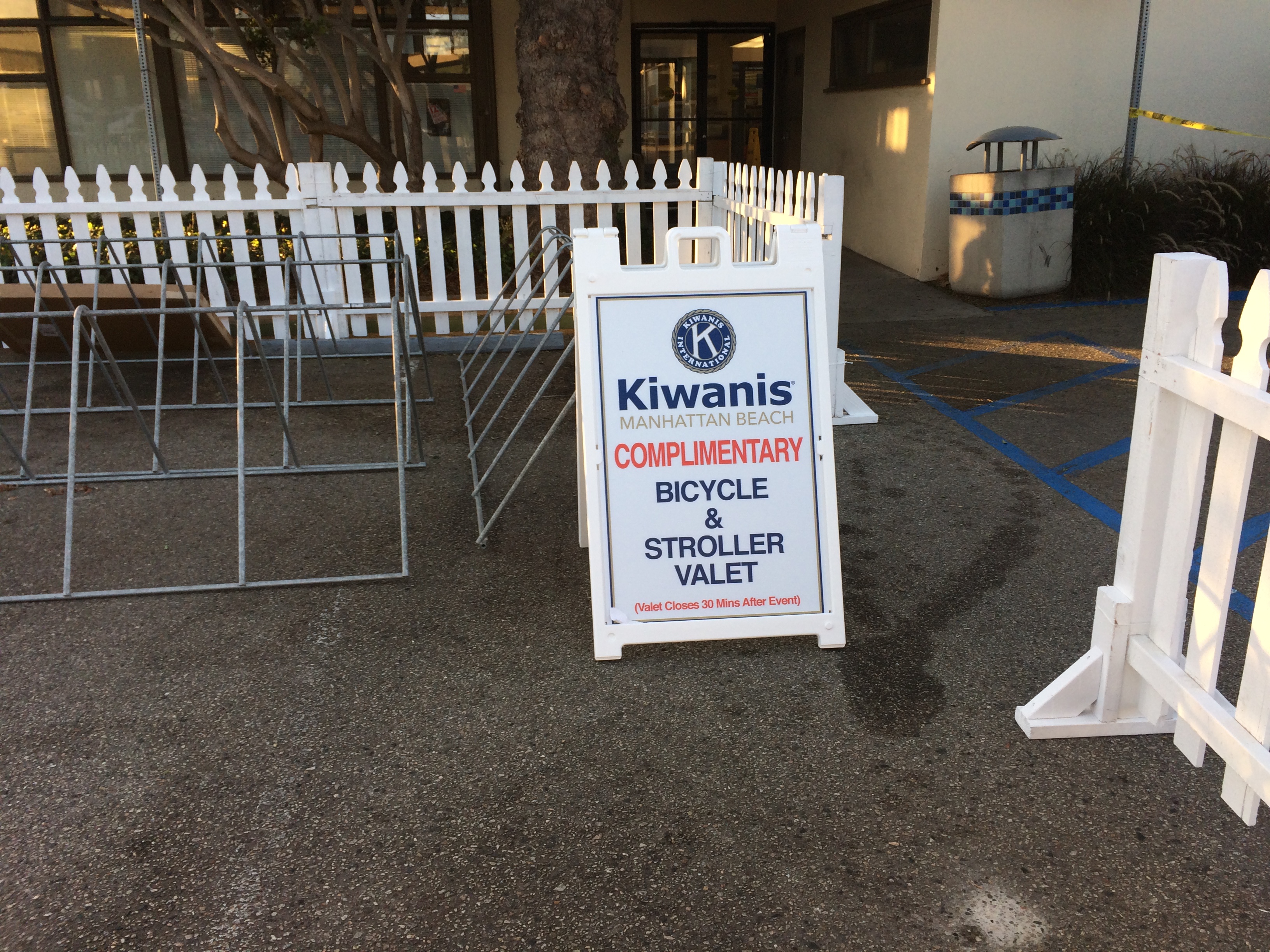 Bike & Stroller Valet
Leave your strollers and bikes at our FREE VALETS, located on the south end in the Joslyn Center parking lot located at 15th Street or on north end near 21st Street.
These areas are sponsored and staffed by volunteers of the Kiwanis Club of Manhattan Beach.
Information/Lost & Found
There are three Information Booths, located on Live Oak Field, Dorsey Field and at the Fair entrance on 15th Street.  Each Information Booth displays a large map of the Fair.
For any lost items, please check in with the Dorsey Field Information Booth.
Parents are encouraged to arrange a meeting place in case a child becomes lost.
FAQs
Where is the handicap parking
Accessible parking is available on a first-come basis in the City Hall lot and the Joslyn Center Lot. Enter the lots from the corner of Highland Avenue and 15th Street by showing your accessible placard or license plate to the officer.
Where are the restrooms located at the Hometown Fair?
There are restrooms conveniently located throughout the fairgrounds:
At 15th Street, Just outside Kid Country
Inside Joslyn Center - Community Showcase Art Exhibit Hall
Behind the Scouthouse
In the Tennis Office being Dorsey Field
Next to Free Speech, near 19th Street
Inside the Beer Garden
Where do I go if I lost my child?
If you lost your child, please visit the nearest Information Booth
Live Oak Field
Dorsey Field
15th & Valley
Kid Country
Where are the smoking areas?
On June 17th, 2014 the Manhattan Beach City Council voted to adopt Breathe Free MB to prohibit smoking in all public places in the City of Manhattan Beach, and prohibit the use of electronic cigarettes wherever smoking is not allowed.
Which buildings are air conditioned?
If you want to take a break from the heat, we have air conditioning in these buildings for your comfort:
- Joslyn Center - Community Showcase Art Exhibit Hall
Where is the best place to sit and rest?
Located next to the Main Stage on Dorsey Field there is seating and shade for your comfort. This area is surrounded by food vendors, so you can grab a snack while you rest your feet.
Do you allow Commercial Exhibits/Booths?
The Manhattan Beach Hometown Fair does not accept any commercial booths. We are focused on family and fun and take pride in our juried hand-crafted items for sale
Who sponsors the fair?
The Hometown Fair does not have any sponsors. We are a local community fair for the pure enjoyment of our lovely community.
Who puts on the Fair each year?
The Fair is put on by a tireless group of 20 all volunteer board members who meet from March through October to make each fair the best yet.
What are the online contest official rules?
There is no purchase necessary. Open to all ages. All prizes are available to be picked up by the winner over fair weekend at their designated locations in the contest post. We will not ship any prizes. Use of winners images or name will be for marketing purpose and winner agrees to allow the Manhattan Beach Hometown Fair Association use of images. Contests on Instagram, Twitter and Facebook are not sponsored by Instagram, Twitter or Facebook.
How can I become a Board Member?
If you live in Manhattan Beach and would like to join our board, please fill out the application form.